Windrest Cat Boutique offers a flat rate (all inclusive price) for all services provided. The owners, Dennice and Robert strongly believe that a cat guest deserves to be pampered and provided with the proper care throughout its stay. There are no additional/hidden charges or surcharges during anytime especially throughout holiday periods. This includes:

Secure outdoor play
Each cat guest will have their own private, fully secured courtyard as their personal outdoor play area.
Every courtyard has items of interest to keep your special cat entertained. As such, they can climb, hide, or just lie in the sun and relax. The items in each courtyard are unique to each suite and therefore no two are the same. Some courtyards provide for the adventurous cat who wants to follow the ramps and climb to the double height platform, this is a great way to view the night time skies. If the cat guest prefers a lower one metre platform other villas offer just that.
We are keen that the experience of each cat guest is one of fun, so that boredom is not an option!
Villa accommodation
At Windrest, our cat guests are provided with bespoke villa accommodation, with each cat guest having their own secure outdoor courtyard where they can play. Each cat guest has a garden view; there are no cages, no pens. Simply spacious villas. At nine metres long, the villas are a home away from home. Each cat cottage comes in a variety of fun colour schemes with different designs and interiors. Many villas can be split into two separate suites that is 2.5metres x 2.5 metres as indoor space, with the personal courtyard a further 1.6 metres x 2.00 metres - that's a total of 4.1 metres walking space for the cat guest. Alternatively the suites can be tailored to a family setting simply by opening the connecting door.
This means families can stay together yet separated during meal times without having to leave the villa. For the peace of mind of pet parents, each villa is accessed with a print pad security system, windows are thickened safety glass and the private courtyards are fully secure. Here are a couple of examples: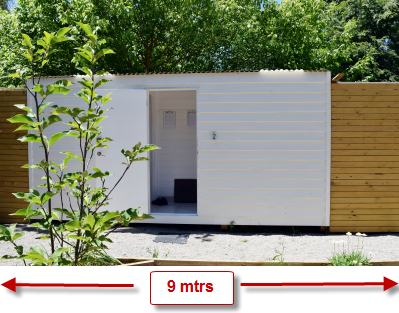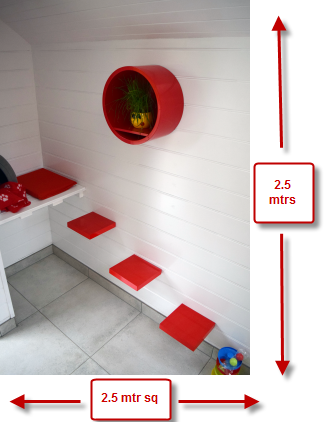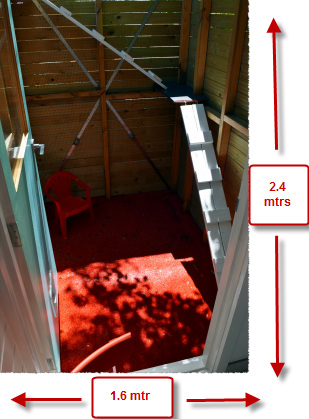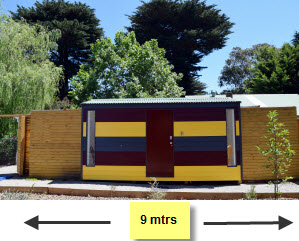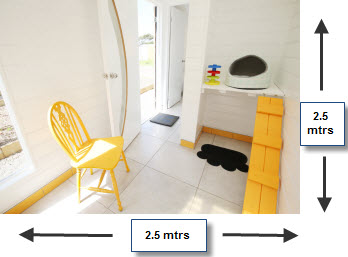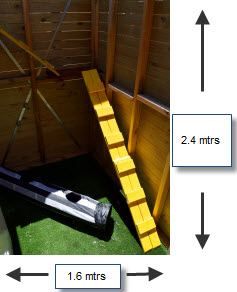 Beauty
At Windrest, we provide a wide range of beauty and grooming facilities during each cat guest's stay. This includes a daily brush and comb; full body massage; cuddles and pampering. Your cat will enjoy a luxurious experience in a tranquil setting.
Windrest take great care to ensure a cat is regularly pampered. This includes a comprehensive grooming regime. Grooming the cat on a regular basis will also allow the animal carer and management to observe the resident's health. Furthermore, grooming the cat can assist to prevent feline health issues such as digestive problems caused by hairballs. Regular grooming will also help to improve the health of the cat's skin and coat. With the owner's approval, Windrest staff will focus on regular brushing which offers benefits such as dead hair and dirt, and removing or preventing mats and tangles. This will be conducted at a time when the resident is most comfortable, typically once eating has occurred.
Gourmet food
We provide only the highest quality food for your cat. We offer kangaroo meat, at no cost provide premium brands such as Royal Canin wet food, together with high quality home made treats and other things to tempt your cat's taste buds! The products supplied do not contain artificial colours, flavouring, wheat, soy, corn, gluten or colouring.
If your cat has special dietary needs then we also cater for this. please feel free to inquire in relation to the premium brands used for each cat guest.
Valet Service
We offer a personalised valet service for pet parents who reside on the Mornington Peninsula or the South Eastern suburbs (65 kilometre radius applies). All other locations will be treated on a case-by-case basis.
Please contact Windrest for further information.